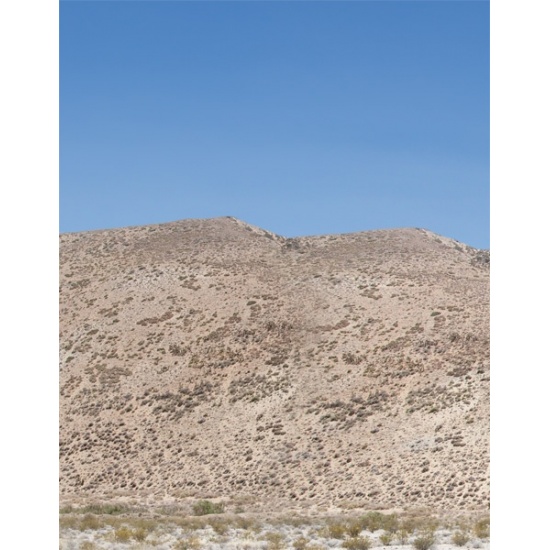  
DH-01 Desert Hills - Desert Hills Series Repeater
DH-01 Desert Hills - Desert Hills Series Repeater
100% secure payments
Pricing defaults to the smallest or least expensive combination.
Make selections for price.
Available Sizes & Selections:
Only available sizes will allow you to add to cart
DDH-01 Desert Hills - Desert Hills Series Repeater
Square gallery photos are close up crop images to show detail. This is a basic overview of this style. See spec sheet below for a preview of your selected scale, length and height.

As a member of the Desert Hills Series (DH), this backdrop features a trackside viewpoint. The perspective is based on a low to mid tree line view point providing a proper perspective which is excellent for photography and video. This style is a repeater image for expandability and may be used in multiples of itself to create long runs of this particular style in any of its available lengths or with any other backdrop style in this series.
This style may also be used to expand with other backdrops in the same series. All backdrops in this series can be used interchangeably with each other, on either side of one another, and in no particular order. Be sure to select the same model scale and height for all prints. Length is not a consideration in repeating prints as the image elements are always the same scale and perspective despite the different lengths. They are all made to work together in a seamless fashion. If you have not seen our backdrop intro video, now is a good time as this will explain the features in more detail. Video - "All about our backdrops"
Measurement: Example (48" x 18"), 48" would be the length (horizontal) and 18" would be the height (vertical). A shorter height means only that there is less sky, but the rest of the image and elements remain the same. A shorter length means that the backdrop is simply a shorter horizontal version where the edge elements still retain the ability to mate with other backdrops in the same series in a seamless fashion.
View more in the Desert Hills Series

Options and adders for this backdrop style
Road Option: Add even more realism to your backdrop with an optional road. You can choose from the available styles and positions in the menu and the road will be added into the scene in your selected position. For middle options, it will be added in middle of the backdrop. If left and right are available, it will be added in the best possible position in the general area. In many cases, the road can be placed at almost any spot you want, but please contact us by sending an email before you order.
Transition prints available with this style
Do you like this series for a section of your layout, but also want to incorporate another series as well? No problem, some styles are available as separate print transitions to another series that are expandable in the same seamless repeating fashion.
See our Transition Prints section for more info and
available selections.

Preview of scale relationship and available roads adder options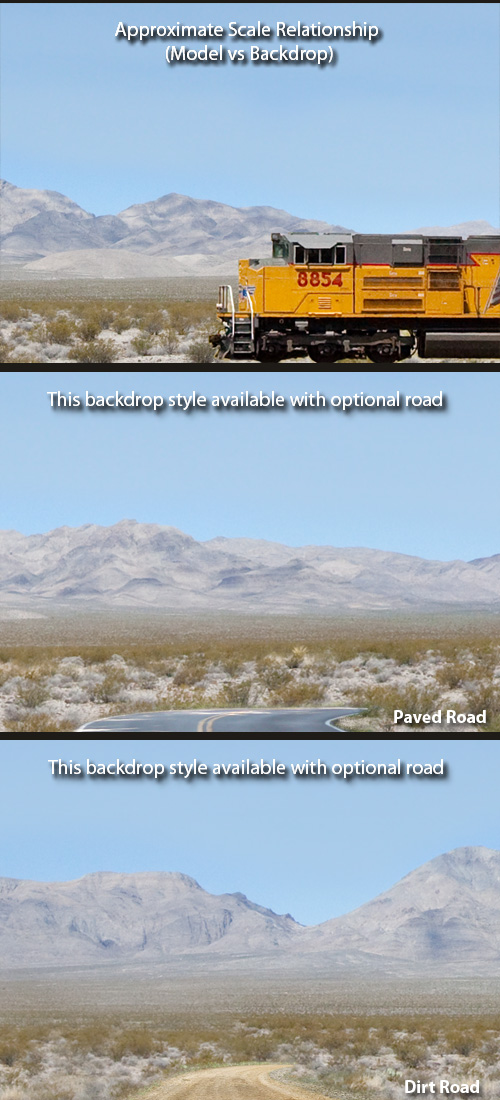 Spec Sheet:
See for yourself - Printable spec sheet samples for this backdrop are available in PDF format or see below for standard available model scales and related sizes. Click to download samples in PDF format. The downloadable PDF spec sheet is formatted to be printed out at standard 8.5" x 11" letter size.
You can view all available standard sizes for this backdrop in each model scale and see how each would look at your intended length and height.
Measurement: Example (48" x 18"), 48" would be the length (horizontal) and 18" would be the height (vertical). A shorter height means only that there is less sky, but the rest of the image and elements remain the same. A shorter length means that the backdrop is simply a shorter horizontal version where the edge elements still retain the ability to mate with other backdrops in the same series in a seamless fashion.
All backdrop product pages include spec sheet images and a downloadable PDF file for that particular backdrop. If desired, you can print them, cut out your intended size choice and place the images side by side to preview the repeating style or mate with others from the same series to give you an overall impression of your backdrop system.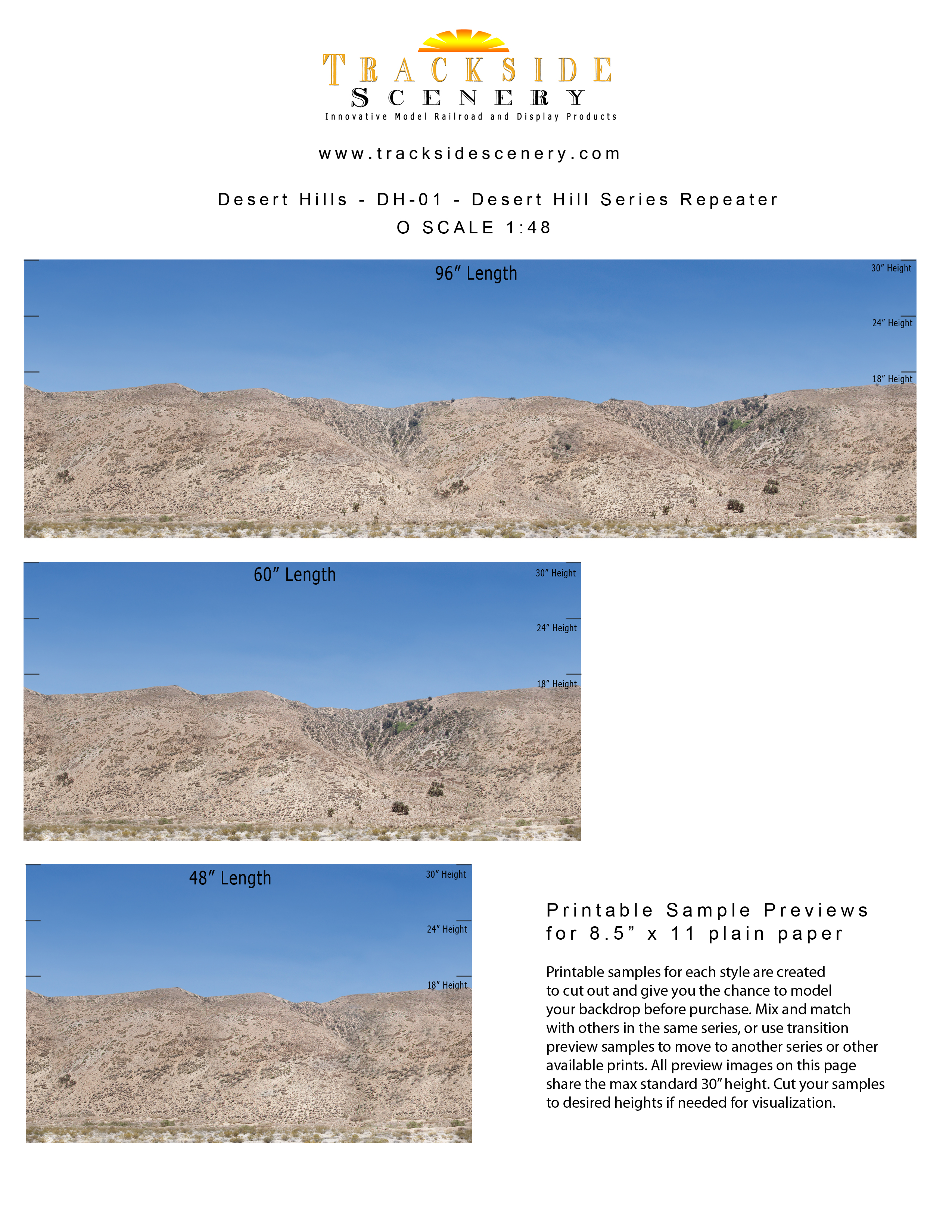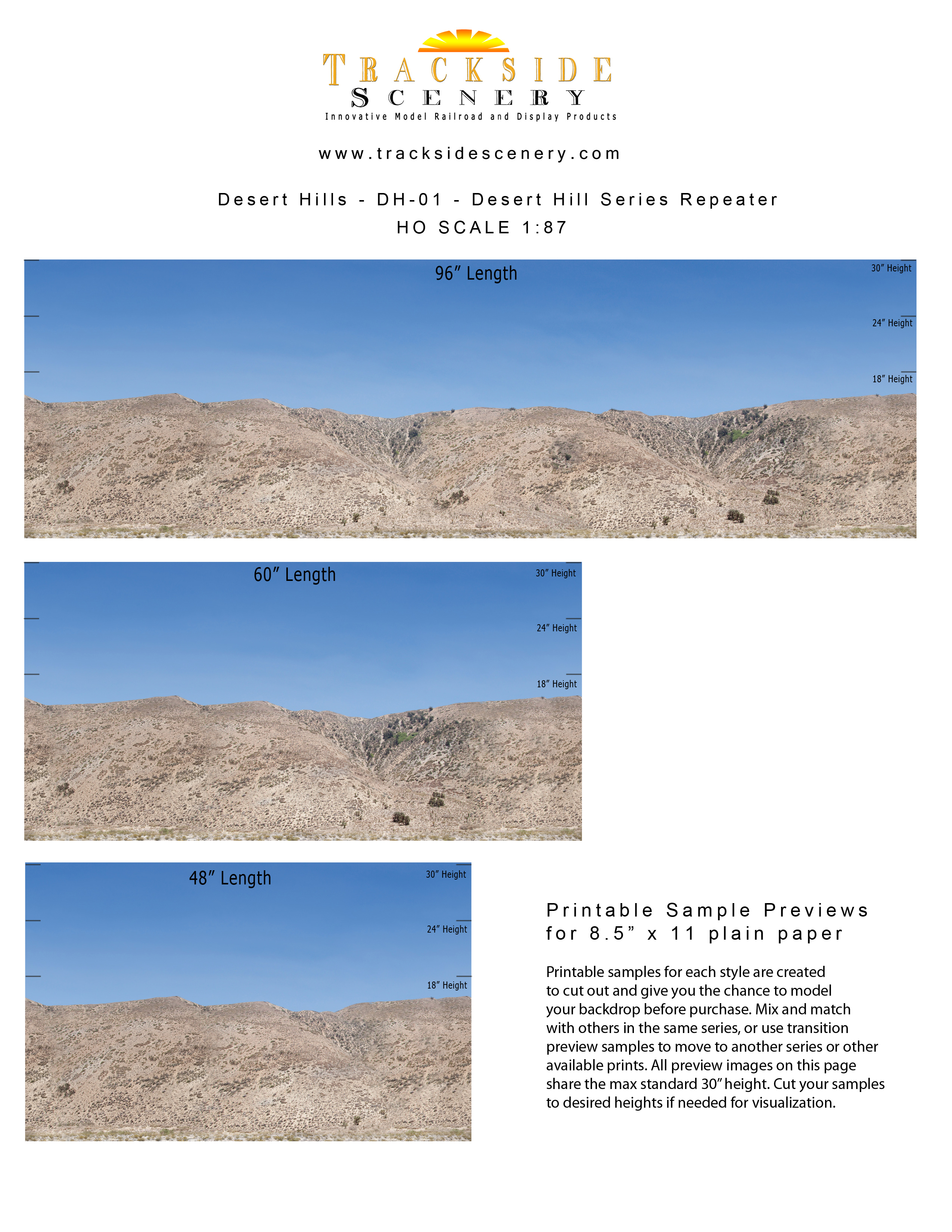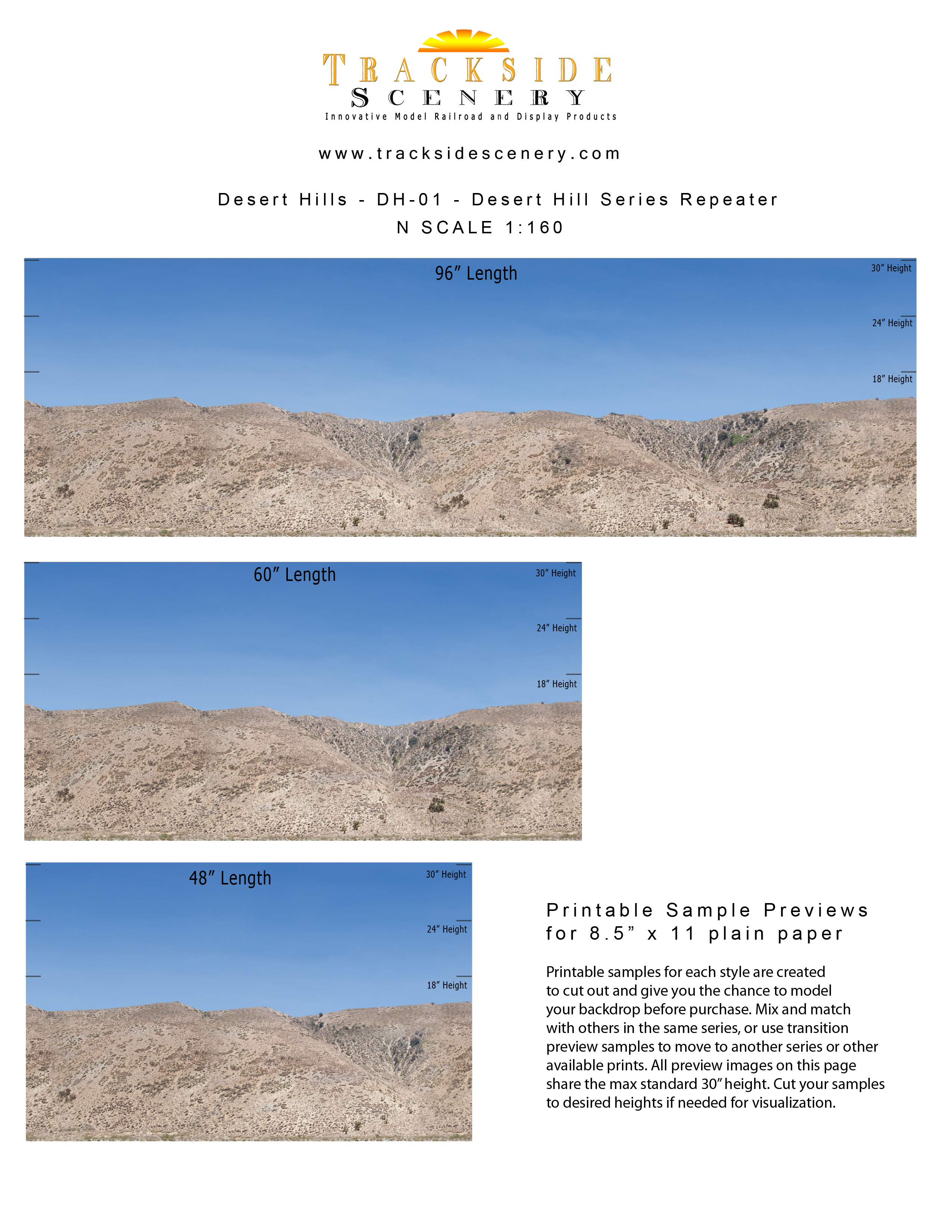 Standard Backdrop Features
Scale Proportionate
Designed to be scale proportionate where the layout meets the backdrop. Elements in each image were carefully scaled to be compatible with your chosen model scale. Structures, figures and vehicles on your layout will look great where your layout meets the real world.
Unique Trackside View That Puts You In The Scene
Backdrops feature a unique track side view to put you right there in the scene. Each image delivers a trackside view and honest real world perspective that no other commercially available backdrops can match. Whether you are in the woods, out near the fields or in the city - Trackside Scenery puts you right there in the scene!
Repeating Design Makes It Simple & Easy
All backdrops feature a repeating design to allow you the ability to expand and reach any length desired. Multiple prints of the same pattern are a great way to expand your scene. Great care was used to design a series of prints that mate together in a seamless fashion. For more information on repeating backdrops see >Info Center

It's as easy as choosing a style that suits your modeling tastes. Simply choose a series with the overall look and then select the backdrops in that series. You can select from a variety of styles using any available length to reach your goal. When installed with great care, it really is hard to tell where the seam is with repeating prints.
Custom Sizes Available
With many of these designs, custom sizes, shapes and elements are available. For more information on custom design please see Custom Backdrops >

Just the facts!
This is NOT vinyl and NOT wallpaper!
Vinyl is great for wallpaper, outdoor signs and banners, but you can not produce the same image quality print as prints on photographic paper. Trackside scenery backdrops are printed on high quality photographic papers.

Our Photographic Print Products
All Trackside Scenery backdrops and print products are printed on professional matte finish photographic papers. These are the same papers that you would find throughout the fine art print industry and these are the very same papers that are used in museums and professional displays. Our backdrops have been carefully designed to deliver a realistic scene on a low glare true matte finish.
Our standard print is of a heavy weight coated paper design and is sufficiently scratch resistant. This premium paper is 5-7 mil thick and is fairly durable. Our adhesive backed version is of a heavy weight coated design with the same characteristics as the standard paper, but comes with a permanent, pressure-sensitive adhesive backing.
Standard Print vs. Adhesive Backing
With care and attention - installing your backdrop is very easy. Whether you are using our standard offering of premium quality professional photographic matte finished prints or our premium quality professional matte finish prints with adhesive backing, installing your backdrops can be a very easy and rewarding process.
The idea of adhesive backing is a great concept and it can create a shortcut in the installation process when care and attention are used. Unfortunately, pressure sensitive adhesives (PSA's) leave less room for error and work similar to that of a postage stamp. Once it is applied, there is less chance that you can adjust the print. This is an especially critical consideration when working with prints of long lengths. Trackside Scenery is not responsible for your installation methods. Remember, a backdrop is a model too! Treat it just like you would with a precious model related project
More information on the installation process can be found here Info Center >
Note: Print length (eg. 96", 60", 48") is approximate the subject to being + or - 1/16" for every 36" in length. Please consider this before preparing/cutting the substrate to which you are mounting your print. This is due to printer calibration/recalibration during the printing process when producing extremely long prints on professional photographic paper. Others may call it squeeze or pinch in long prints.
1st Stop!
If you have not seen our introduction video,
now is a good time. This video explains in
detail the, the many feature of our backdrops.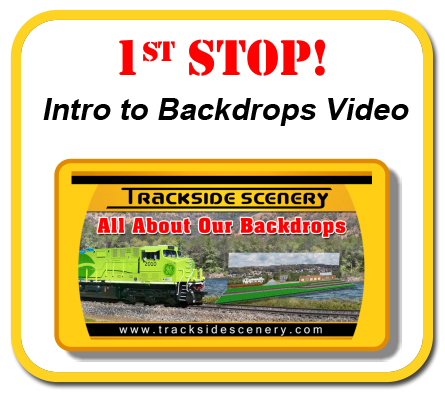 Get Started Booklet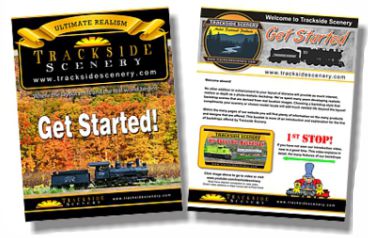 Installation Guide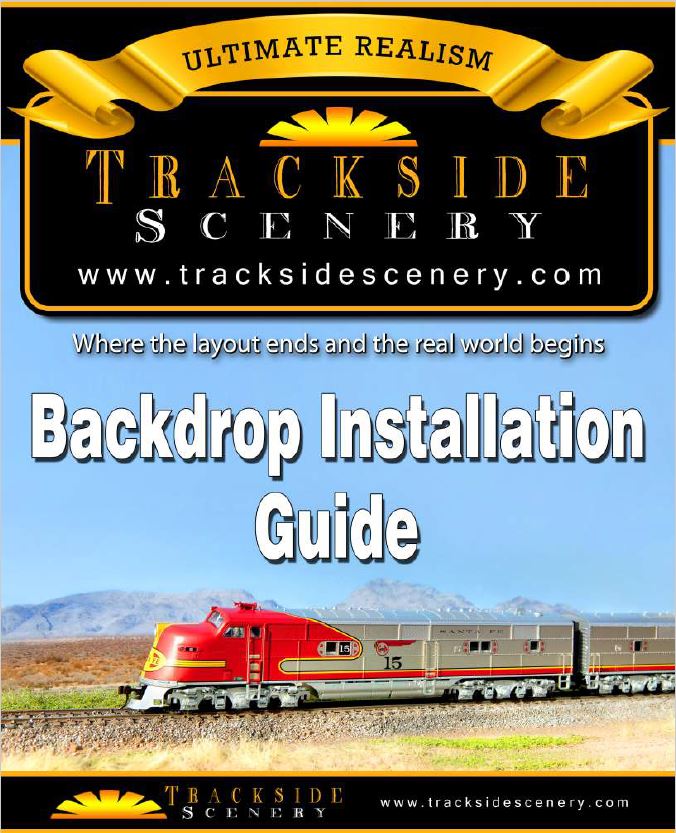 Ordering Information
Payments can be made securely with all major credit cards or PayPal. 
Making Selections - Add to Cart
These instructions assume you are on the product page of the item you wish to order, There is a drop down menu for each step in the selection process. ordering. For each dropdown selection, depending on menu, pricing will show updated. (model scale is does not affect price).

Step 1) Select Backdrop Print Paper Type:
Standard print or adhesive backing print

Step 2) Select Scale:
Select your model scale (this selection does not affect pricing)

Step 3) Select Size:
Select the size of your backdrop from the menu. Please note that you can select any of the sizes in the list on this menu. Some backdrop styles have fixed lengths for each scale. This is to preserve the same image elements over all available model scales. This is typical for backdrops that have fixed size elements such as structures. Heights can be selected as desired, but you will only be able to select available lengths for each particular scale.
Also, some backdrops or series of backdrops may have a limited height for certain model scales. Such instances may be where there is a tall structure or hill where a shorter backdrop print heights would clip part of the scene at that particular height.

Step 4) Select Optional Elements: Typically, this applies to your option of available elements such as roads  If no optional element is needed, simply leave it alone or set to "no road" or "no stream" etc.

Step 5) Select Optional Elements:
Once you have made your selections, double check for accuracy and see pricing. Once you are satisfied with your selections click - add to cart.
You should see the product being placed in the cart. You can now move on to other items and products. Once you have all of your products in the cart and are ready to check out, simply click on the cart icon at top right of page and proceed to check out.
Additional Notes
When purchasing multiple backdrop prints, It is the purchaser responsibility to select backdrops in matching scale and height.

When purchasing transition prints to work between two or more backdrop series, it is purchaser responsibility to select proper transition as well as matching scale and height. Scale representative sample images are provided in the product description for download and preview purposes. Please feel free to download the representative images and create your backdrop series on paper before purchase.

If you have any questions, please do not hesitate to contact us as soon as possible. It is our goal to make your selection and purchase process as easy as possible.

All backdrop orders are processed as soon as possible. Backdrops are print to order and lead time is typically 1-2 business days for printing and processing prior to shipping. Optional elements such as roads may add a slightly longer processing time. If you have any questions please do not hesitate to contact us.
ALL BACKDROP ORDERS ARE PRINT TO ORDER - NO REFUNDS OR EXCHANGES - for more info see Terms and Conditions
5 other products in the same category